One Alpha Riverside
One Alpha Riverside - It's ready for booking now.
Be fastest Investors to own the super luxury apartments in Diamond Land in District 01 - HCMC.  
Please kindly contact us at: 0909 288 281 (Viber/Whatapps/Zalo) for free consultant.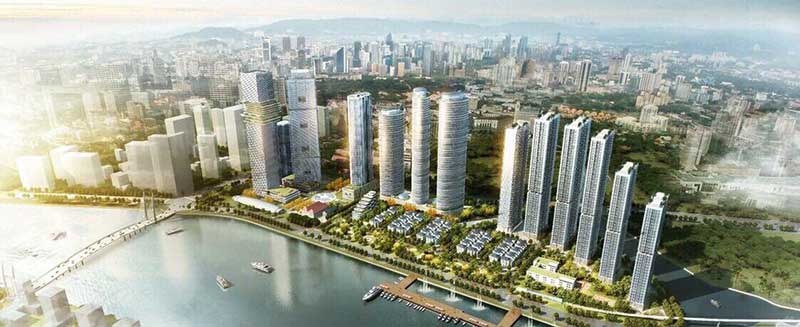 One Alpha Riverside Apartment in Ba Son, District 01 - The most anticipated project in 2018 is officially coming. One Alpha Riverside is developed by Alpha King, the most luxury residences complex in HCMC is nearby the Saigon River. Wishing to completely change the face of the line Luxury real estate martket in downtown Ho Chi Minh, The investor will certainly not offend the high level residences in City Center. 
OVERVIEW OF ONE ALPHA RIVERSIDE APARTMENT PROJECT
Rising on the diamond land, One Alpha Riverside is the only project of in District 1 Ho Chi Minh City has a walkway and park riverside. With the scale of construction into a city-wide riverside in heart of the city, huge amount of utility promise
will bring to life resort, enjoy the convenience at the existing city center. For the purpose of shaping up the super high lifestyles for on the "river green; golden land" of Bason, District 01.
- Investor: Alpha King Corporation from HongKong.
- Project location: No. 2 Ton Duc Thang, Ben Nghe Ward, District 1, HCMC (unique diamond location of District 1) and The front of      Nguyen Huu Canh and Nguyen Binh Khiem street. 
- Project Name: One Alpha Riverside
- Area of ​​the project: over 20,000 m2
- Design: DPA
- Contractor: Shanghai Contrucstion Group.
- Retail Commercial Design: Benoy
Scope of the project:
 - 4 basements with large capacity.
 - 8 floor commercial block.
 - 38 storey commercial apartments.
 - 1 floor for roofstop bar.
Form of construction: apartment 1,2,3 bedrooms, Shophouse, Penthouse. (area: 50 - 200m2)
Project Facilities: Olympic Standard Pool, GYM, outdoor workshop, commercial center, office, apartment service, BBQ, central square, walkway and river park; etc.
This is a pilot project on BIM technology of the Ministry of Construction of The Smarthome application is also known as the "home" solution smart "to help users interact with their flat by Application on Smartphone.
The "smart home" controls all electronic devices In-house energy saving help, security controls, actively create the perfect for modern life catch timely technology 4.0.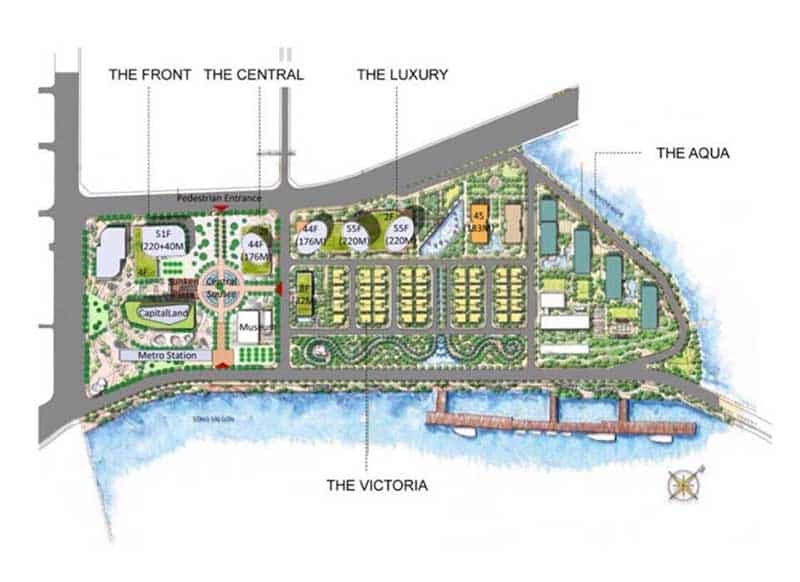 GOLDEN LOCATION 
One Alpha Riverside is located Bason diamond land with 3 front lines: Ton Duc Thang, Nguyen Binh Khiem, Nguyen Huu Canh and a front of the river stretching over 1.8 kilometer.
It belongs to subdivision 3 according to the central planning of Ho Chi Minh City, in the existing District 1 is the economic - cultural center - the only commercial - service of the city.
With perfect transportation infrastructure of One Alpha Riverside apartment, It provides connectivity to very convenient and fast locations Such as: 
• For Road is the main road with 3 roads: Ton Duc Thang, Nguyen Binh Khiem, Nguyen Huu Canh street. The Thu Thiem bridge 2 will be completed when the project prepare to form. It's completely easy connection to Thu Thiem only 3 minutes, Phu My Hung about 10 minutes, to airport mostly about 20 minutes and other district 3,5,10 easily also from 5 minutes.
• For Waterway with marina stretching over 500m, it help to Develop the restaurant business on the river, bring perfect service experience, enjoyment life that you are in it.
• Railway: One Alpha Riverside located on No. 3A station of the Metro No. 1 line. It helps residents to experience modern life
Right at the project with just some out door steps.

PREMIUM FACILITIES
Living in One Alpha Riverside you will enjoy luxury facilities: 
 There is big lake with 21 utilities including: Water playground, Children playground, Aquatic garden birthdays, Green Bay Islands, Yoga gardens, Creative gardens, Gardens BBQ grill, Light Bay, Gym, Sports outdoor, BBQ campgrounds, Pet Zoos.
 City green park
 Sports Complex consists of 7 sports facilities: yard
color playground, lawn picnic, badminton court, soccer field
basketball, tennis court, patina, outdoor corners.
 Central Park
 Children's Central Park.
 Children's play area.
 Nursery garden
 Eco-gardens.
 Sports Park.
 Interstate park.
 Elderly corner.
 Garden of meditation.
 Water garden
 High-rise buildings (apartment buildings)
 Pre-school campus.
 Fastfood to the door to the residents
 Repair services and maintenance of electrical equipment
water and technology.
 Services change the equipment in the home.
 Absolute security system, 24/7 camera
 The photo, printing.
 Booking air tickets
 Call taxi, rent a car
 Express delivery
 Cinemas
 Marina
One Alpha Riverside residents are also entitled to benefits Restaurant service on yachts at Marina of the project, bring the dinner floating on the Saigon River full of romance, next to dishes from the chef floating along with the melodious light music.
Please kindly contact us at: 0909 288 281 (Viber/Whatapps/Zalo) for free consultant. 
---